NICOLAUDIE STICK-DE3 - Sunlite DMX Standalone valo ohjain tallennin - kosketus paneeli - 1024 kanavaa - 500 sceneä
STICK-DE3 - Sunlite Touch Sensitive Intelligent Light Control Keypad. 1024 DMX output channels and the ability to store 500 scenes across 10 zones, the DE3 is one of the best value controllers on the market today. Available Black or White!
Todella laadukas ja monipuolinen standalone eli tallentava seinäpaneeli DMX - valo-ohjain, ravintoloihin, juhlatiloihin, toimistoihin. Saatavilla mustana tai valkoisena.
Fast delivery 1-3 working days!
Helsinki store:
1 pcs -
In Stock
Supplier stock:
Can be ordered
Contact us for more accurate info
For this product:
Free Shipping!
STICK-DE3

The star of the STICK family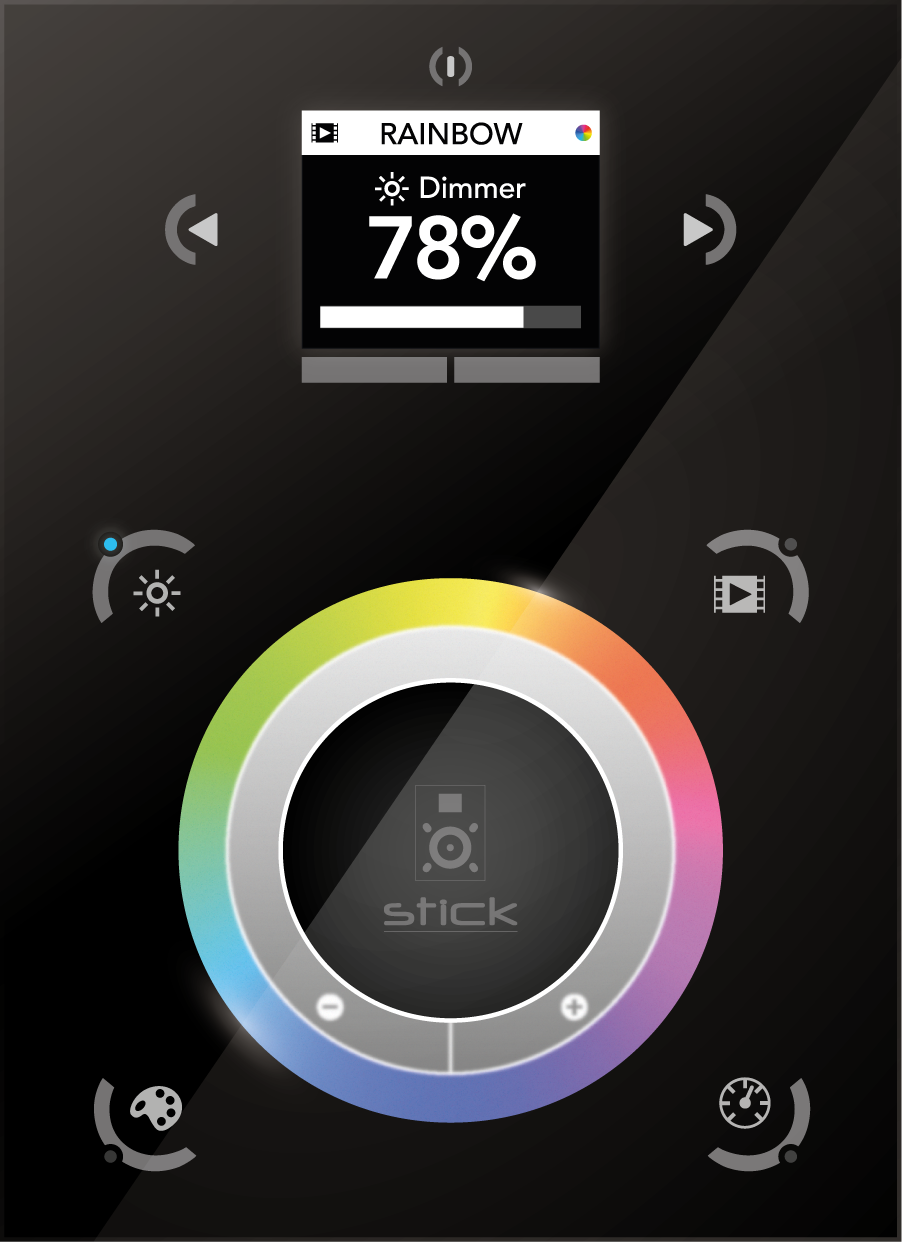 The lighting controller

that everybody
understands

The feature rich STICK-DE3 has been designed to provide a control solution for the most demanding of projects and yet easy enough for anyone to use. The controller integrates a graphical color display, allowing scene photos to be displayed. Easily view the selected zone, scene name and design without the need to navigate through complex menus.

The STICK-DE3 has 4 different modes. Scroll around the touch sensitive wheel to change the dimmer, color, speed or scene, or tap around the wheel for direct access to a value. The arrows can be used to step through values.
• New glass design
• Graphical color display
• Color/dimmer/speed palette
• Touch sensitive buttons
• Touch sensitive wheel
• Multi-zone microSD memory
• 500 scenes, 10 zones
• 1024 DMX channels
• USB & Ethernet connectivity
• RS232, ports, infra red
• Clock and calendar
• Network communication
• Catalog of designs
• OEM customization
• Windows/Mac software
• iPhone/iPad/Android
Projects and installs

powered by STICK-DE3

Numbers of projects are controlled by our DMX controllers around the word. You will find below a couple of installs powered by the STICK-DE3. Click on the photo to read more about the lighting installation.

More projects using the Nicolaudie Architectural DMX lighting controllers are showcased in our Projects Gallery.
Swan Street Bridge - Melbourne, Australia
Żerańskiej bridge - Warsaw, Poland
Beaulac Hotel - Neuchâtel, Switzerland
Hotel Radisson Blu Gran Canaria
Version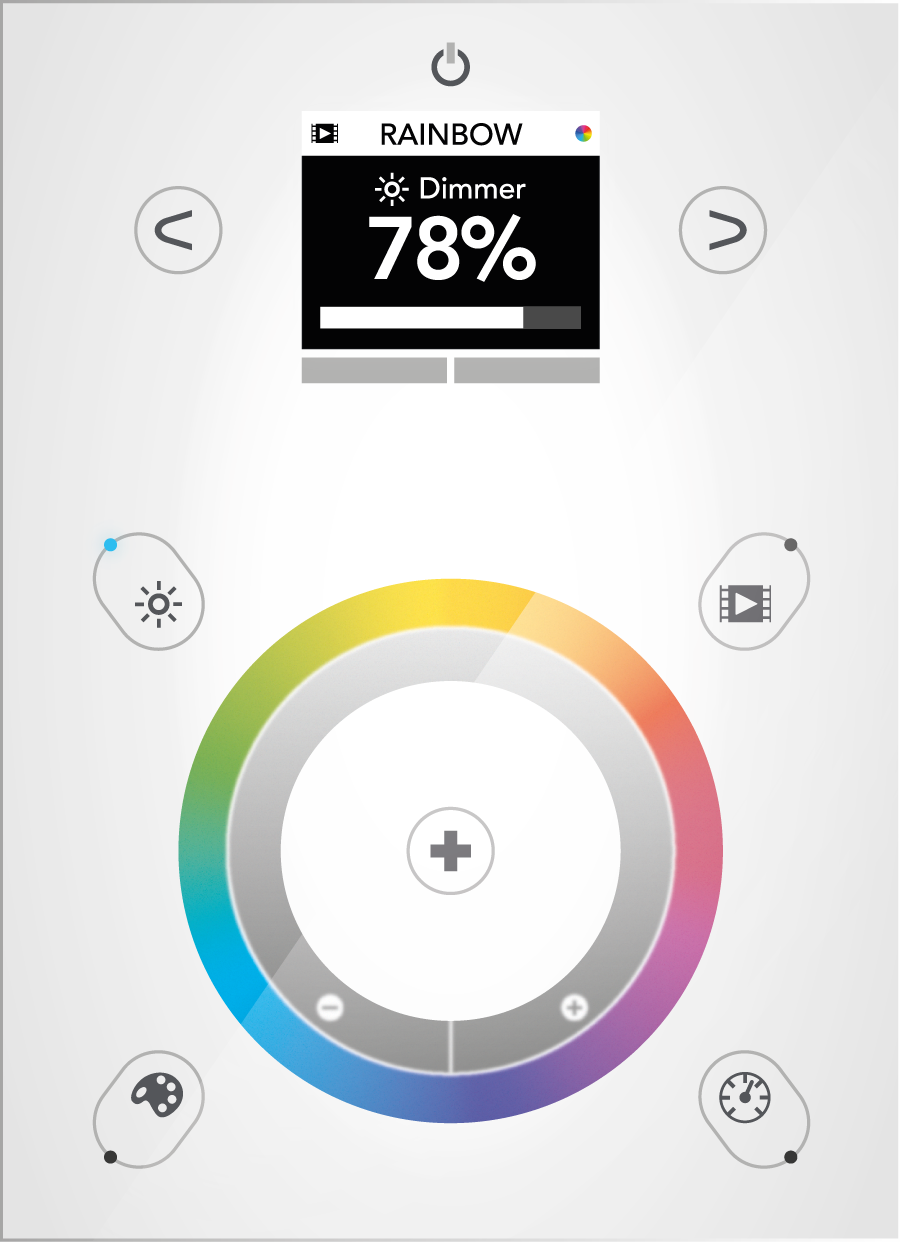 General
Dimensions
106 x 146 x 10 mm
Software
Stand alone
Memory capacity
SD card limit
Power connector
Screw terminal or RJ45
Triggering
Live control
Color / Dimmer / Speed
Touch sensitive buttons
10 + wheel
Internet control
Coming soon
Clock/calendar triggers
100 / astronomical
Options
AC/DC apapter
Ref. POWER4M
RJ45 to board block
Ref. RJ2BLOCK
What's inside

the package

Several accessories and software/mobile apps are included in the STICK-DE3 package. Check out below.
Usb cable
Micro SD card
Power adapter (optional)
Software
Mobile apps
Documentation
More Information

| | |
| --- | --- |
| Manufacturer Sku | BD1 musta, WD1 valkoinen STICK-DE3 |