PIONEER HDJ-X5-S PRO DJ kuulokkeet - Hopea
HDJ-X5-S PRO DJ kuulokkeet hopea, vaativaan käyttöön suljettu korvat peittävä rakenne. Laajalla 5Hz-30kHz taajuusvasteella, sekä hyvin kulutusta kestävällä metallirakenteella. Soveltuu DJ sekä kotikäyttöön, tukeva rakenne. Myös BT versio
Fast delivery 1-3 working days!
Helsinki store:
1 pcs
Ready to be dispatched
Supplier stock:
not confirmed
Shipping only:
€9.90
- Or pickup from store!
Ominaisuudet:
Pioneer HDJ-X5 -kuulokkeet mahdollistavat laadukkaan kuuntelun niin keikoilla, kuin vapaa-ajalla. Kuulokkeet toimivat erinomaisesti vaativissakin olosuhteissa, sillä niiden laadukkaiden komponenttien ja tarkoin valmistetun rakenteen ansiosta ne toistavat musiikin kuuntelemisen kirkkaalla sekä tasapainoisella äänellä kovissakin äänenvoimakkuuksissa. Kääntyvän rakenteen ja mukavien pehmusteiden myötä kuulokkeet eivät rasita päätä. Kestävän rakenteen ansiosta kuulokkeet kestävät kovempaakin menoa hajoamatta.
•Tyyppi: suljettu
•Elementit: 40 mm
•Kaapelit: 1,2 m kierrekaapeli
•Taajuusvaste: 5 - 30 000 Hz
•Impedanssi: 32 ?
•Mukana tulevat tarvikkeet: 6,3 mm adapteri, kantolaukku
•Paino: 269 g
PRIME SOUND QUALITY
Hear your tracks loud and clear in the booth and on the move with the HDJ-X5. By taking on board feedback from DJs and analysing many different styles of monitoring, we've made sure our new DJ headphone range includes all the features needed for performing at every level. Thanks to the high-quality audio design inherited from our previous professional DJ headphones, you can enjoy distortion-free monitoring, even at high volumes, wherever you go.
The HDJ-X headphones are designed to be flexible. Their swivel mechanism allows you to wear them comfortably, whichever way you prefer, for long periods of time. No need to worry about bumps and knocks during transport as these DJ headphones can handle severe conditions and heavy use. They even cleared the US Military Standard Shock test.
KEY FEATURES
OUTSTANDING SOUND

With a new 40-mm driver, hear your tracks loud and clear. The 4-core twisted-structure cable gives superior left and right channel separation and the magnetic circuit is optimised so, thanks to fine noise suppression and elaborate tuning, you can enjoy distortion-free sound.

RIGOROUSLY TESTED

Take the HDJ-X headphones on the road and feel confident they'll handle severe conditions and heavy use. All the HDJ models have cleared the US Military Standard Shock test* as well as our own stringent stress testing.

*MIL-STD-810G

COMFORTABLE FIT

These headphones are comfortable to use no matter how you wear them. The housing design reduces pressure on your head, while its outside texture enhances grip. To help you find the perfect fit, they also feature a flexible, durable headband and a flexible swivel.

SOLID, REFINED DESIGN

All the HDJ-X headphones feature a refined look and durable construction. Choose from black or silver versions to complete your desired look.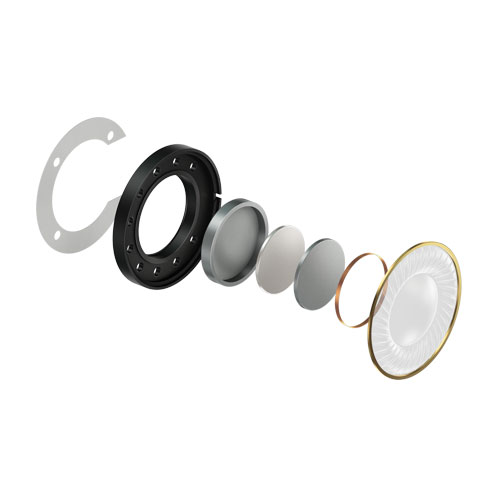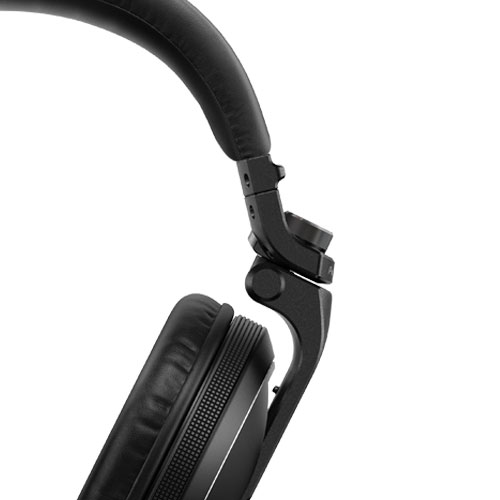 Excellent portability

A compact carrying pouch fits snugly around your folded headphones to save space in your luggage and reduce the risk of damage on the road.

Various accessories included

The HDJ-X5 comes with a 1.2 m short coiled cable and an L-type mini-jack, preventing any accidental disconnection during performances.

Replacement parts available

Easily renew the detachable cables and ear pads with replacement parts (sold separately).

2-year warranty

Count on long-term, reliable performance from your HDJ-X headphones. A 2-year warranty has got you covered.

Main Features

Type

Closed, dynamic

Driver Units

40 mm dome type

Cord

1.2 m short coiled cable (1.8 m extended length)

What's in the box

6.3 mm stereo plug adapter (threaded type)
Carrying pouch

Specifications

| | |
| --- | --- |
| Weight (without cord) | 269 g |
| Maximum Input Power | 2000 mW |
| Output Sound Level | 102 dB |
| Frequency Range | 5 - 30000 Hz |
| Impedance | 32 Ω |
More Information

| | |
| --- | --- |
| Manufacturer Sku | HDJ-X5-S |
| EAN | 4573201241023 |