PIONEER PLX-500 Levysoitin musta DJ ja kotikäyttöön
PLX-500 Levysoitin musta DJ tai kotikäyttöön tiskijukkien ja klubien tarpeisiin vastaava huippu DJ soitin. Soittimessa suuri vääntö, jonka ansiosta käynnistys on jopa alle yhden sekunnin. Tempo ±8%, kullatut RCA-liittimet ulostuloissa, klassinen DJ levarin muotoilu.
Toimitus sisältää pölykannen ja äänirasiakelkan, sekä PC-HS01-S äänirasian sekä neulan. Mitat 450 x 159 x 368 mm sekä paino 10.7kg.
Fast delivery 1-3 working days!
Helsinki store:
1 pcs
Ready to be dispatched
Supplier stock:
not confirmed
Shipping only:
€7.90
- Or pickup from store!
Semipro luokan uusin tulokas PLX-500!
Uusi edullisemman luokan levysoitin on tässä! Äärimmäisen vankka rakenne kovaankin klubikäyttöön, hämmästyttävillä teknisillä ominaisuuksilla: Voimakas, kvartsi-ohjattu suoravetomoottori tarkalla tasaisella, digitaalisesti korjatulla nopeudella. Erittäin tarkka soittonopeuden säätö (+/- 8%).
Ominaisuudet:
• Suuri vääntöinen moottori 1.6 kgf cm
• Klassinen muotoilu
• Irroitettava virtapiuha
• Tempo -/+8%
• Korkea laatu
GO VINYL
The PLX-500 inherits the layout of the PLX-1000 professional turntable and produces a warm, clear analogue sound. The perfect deck if you want to start playing with vinyl or if you just want to listen to your record collection at home.
Solidly built with excellent vibration damping and precise audio playback, this high-torque deck has a USB out so you can make digital recordings of your vinyl collection in our free rekordbox software. You can also combine the PLX-500 with the rekordbox dvs Plus Pack, a compatible mixer and the RB-VS1-K Control Vinyl to play and scratch with digital files.
KEY FEATURES
EXCELLENT SOUND DESIGN

Just like the PLX-1000, the PLX-500 is built to produce a high-quality vinyl sound. The shortest possible audio routing from the stylus to the outputs reduces distortion, while the phone/line output switch lets you connect directly to your sound system or to powered speakers with no need for an external amplifier.

EASY DIGITAL RECORDING

Record your vinyl collection to high-quality digital files by simply connecting the turntable to your PC or Mac via the USB out.

SMOOTH DJ PLAY

Use the PLX-500 to mix and scratch your vinyl records or combine the turntable with rekordbox dvs, a compatible DJ mixer and the RB-VS1-K Control Vinyl to play and perform with your digital files.

COVER ART DISPLAY

Put your record covers on display while listening to your vinyl thanks to the sleeve stand inside the dust cover.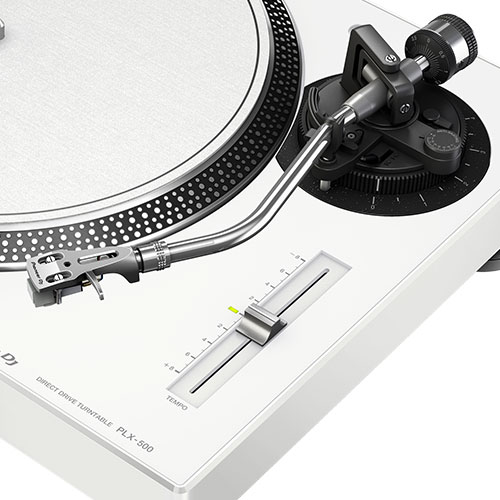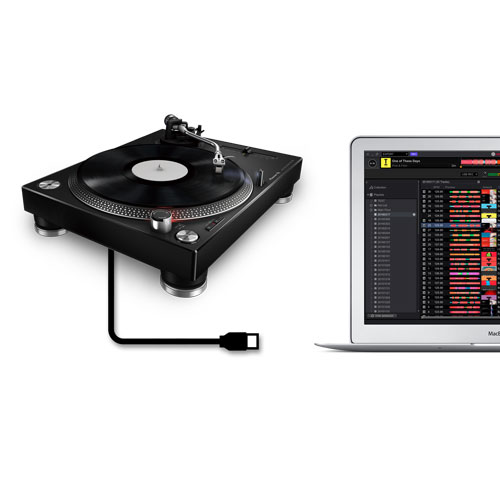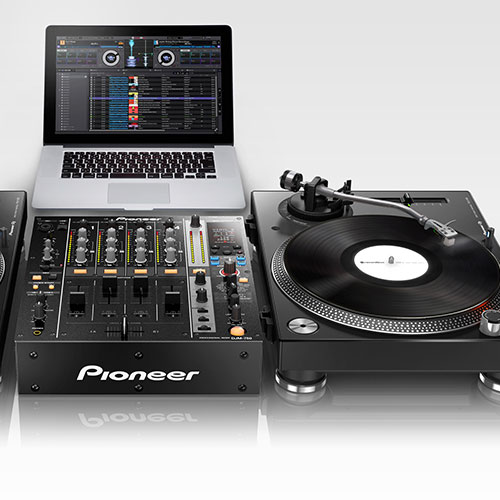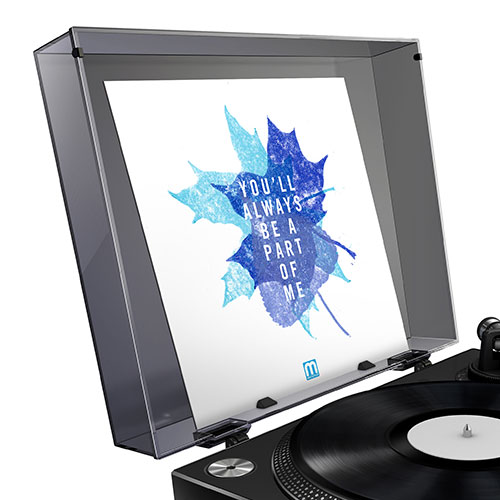 Pick your colour

The PLX-500 is available in black or white to match the colour of your gear or the interior of your home.

Start from scratch

This turntable comes with all the accessories you need to get started: a dust cover with jacket stand, a slipmat and a silver edition PC-HS01-S headshell (cartridge and stylus included).
Main Features
What's in the box

Slip mat
Dust cover with jacket stand
Adapter for 45 EP records
Head shell (with cartridge)
Balance and shell weights
Audio conversion cord:

1 Stereo pin plug (female)
1 Stereo mini plug (male)

USB cord
Specifications
| | |
| --- | --- |
| Width | 450 mm |
| Height | 159 mm |
| Depth | 368 mm |
| Weight | 10.7 kg |
Turntable
| | |
| --- | --- |
| Drive Method | Servo-type direct drive |
| Platter | Aluminium, die-casting diameter: 332 mm |
| Motor | 3-phase, brushless DC motor |
| Braking System | Electronic brake |
| Rotation Speed | 33⅓, 45, 78 rpm |
| Rotation Adjustment Range | ±8 % |
| Wow and Flutter | < 0.15% WRMS |
| Signal-to-Noise Ratio | 50 dB |
| Starting Torque | > 1.6 kgf・cm |
| Start Time | Within 1 sec (at 33⅓ rpm) |
Tone Arm
Arm Type

Universal type S-shape tone arm
Gimbal-supported type bearing structure
Static balance type

Overhang

16 mm

Effective Length

230.5 mm

Tracking Error

Within 3°

Height Adjustment Range

6 mm

Stylus Pressure Variable Range

0-4 g (1 scale 0.1 g)

Proper Cartridge Weight

< 9.5 g

Cartridge type

VM
Terminals
| | |
| --- | --- |
| USB | 1 USB B port |
| Outputs | 1 PHONO/LINE (RCA) |